Flanges / Class 900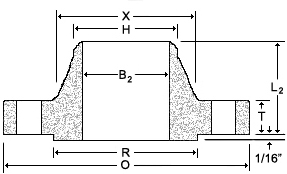 Weld Neck Forged Flange
Threaded Forged Flange
Lap Joint Forged Flange

Blind Forged Flange
Slip On Forged Flange
Nom. Pipe Size
O
T
R
X
#/Dia of Holesa
Bolt Circle Dia
B
B2b
B3
H
L
L2
L3c
r
C
Thr

Sizes 1/2" through 2 1/2" are identical to class 1500.

3
9.5
1.5
5
5
8-1.00
7.5
3.57

3.6
3.5
2.12
4
2.12
0.38
3.63
1.62
4
11.5
1.75
6.19
6.25
8-1.25
9.25
4.57
4.6
4.5
2.75
4.5
2.75
0.44
4.63
1.88
5
13.75
2
7.31
7.5
8-1.38
11
5.66
5.69
5.56
3.12
5
3.12
0.44
5.69
2.12
6
15
2.19
8.5
9.25
12-1.25
12.5
6.72
6.75
6.63
3.38
5.5
3.38
0.5
6.75
2.25
8
18.5
2.5
10.63
11.75
12-1.50
15.5
8.72
8.75
8.63
4
6.38
4.5
0.5
8.75
2.5
10
21.5
2.75
12.75
14.5
16-1.50
18.5
10.88
10.92
10.75
4.25
7.25
5
0.5
10.88
2.81
12
24
3.12
15
16.5
20-1.50
21
12.88
12.92
12.75
4.63
7.88
5.62
0.5
12.94
3
14
25.25
3.38
16.25
17.75
20-1.63
22
14.14
14.18
14
5.12
8.38
6.12
0.5
14.19
3.25
16
27.75
3.5
18.5
20
20-1.75
24.25
16.16
16.19
16
5.25
8.5
6.5
0.5
16.19
3.38
18
31
4
21
22.25
20-2.00
27
18.18
18.2
18
6
9
7.5
0.5
18.19
3.5
20
33.75
4.25
23
24.5
20-2.13
29.5
20.2
20.25
20
6.25
9.75
8.25
0.5
20.19
3.62
24
41
5.5
27.25
29.5
20-2.63
35.5
24.25
24.25
24
8
11.5
10.5
0.5
24.19
4
Dimensions are in inches.

(a)- Bolt hole diameter 1/8 in. larger than bolt diameter.
(b)- Standard bore dimensions provided. See bore chart for other wall thicknesses.
(c)- This dimension is commonly associated with "true" lap joints. Industry standard is to make to the slip on length through the hub.
Class 900 Forged Flange PDF (for printing).